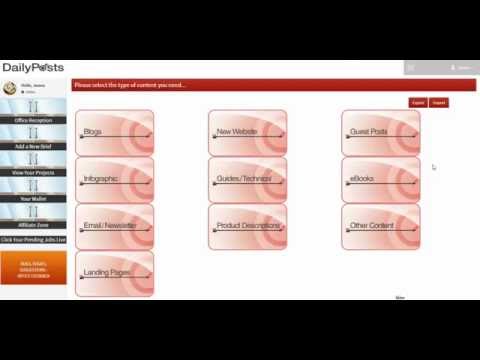 ---
An Efficient Production Model
We have developed a number of business efficiencies that ensure that you get the best quality content possible within your budget. For example,  we have recruited UK and US writers who live in Eastern Europe, Africa, and Asia, and, therefore, are able to work for us on a reduced salary compared to employing people in the UK or US. We have over 250 staff in the UK, US and Canada, as well as the expats we employ around the world. This means that our business is always open.
Bespoke Systems and Processes
At Daily Posts we have made significant investment in our own bespoke systems that drive the content process. Our clients have a login and can track the progress of copy projects, request revisions and pay for their content. We also have a 24/7 365 manned customer support line where you can ask questions about our service or your content.
The Importance of the Brief Cannot be Overstated
We believe that it is nearly impossible to get the content right for you without a decent brief. That doesn't mean that you need to write 1000 words, but writers must have enough guidance to get the job done. We have therefore developed 13 separate briefing forms, so that you can use a form that is appropriate to the content you require. Our clients have found that this makes a tremendous difference to the quality of the final product.
Each project has the option for you to add a YouTube reference, so that you can produce a video and add it to the project to explain exactly what you want. In larger projects we will often produce this guidance video when our clients have not already.
Training, Specialists and Personal Development
We invest in our people and ensure that they feel part of our company, even if they are on the other side of the World. Every writer has a personal development plan, and a personal training area online; fed by our editors and training team. We train writers on niche content types, like press releases and landing pages, to ensure that they understand the nuances of the types of content. We help them to grow with our company so that they can work towards team leadership and management roles. We have built an online corporate culture that brings the best out of our people.
We also ensure that writers write on the topics and content types they are comfortable with. Our self-serve model means that if they qualify for the content type and like the topic then they can claim a task. This means that you will get content from writers who are interested in and knowledgeable about your topics.
Deadlines Smashed
At Daily Posts we strive to ensure that content is back in hours rather than days. We have people working around the clock, around the world, delivering intelligently researched copy that hits the spot. When you put your work in you set a deadline. Our systems then assign a writer deadline, leaving time for editing and proofreading. If a writer is unable to complete a task then the work gets added back to the work pool immediately for one of our "flash" writers to produce. This well-paid, in-house backup team are tasked with ensuring that every deadline is hit; even when something "comes up" with the initial writer.